G.U.Technologies Inc. (CEO: Daimei Inaba, CTO: Hidekazu Kondo), developing and offering web3 business infrastructure, has announced that it has been testing the use of issuing stablecoin that complied with Japanese law on public blockchain "Japan Open Chain", fully Ethereum compatible chain operated by Japanese companies.
Banks that will participate include the Tokyo Kiraboshi Financial Group, Minna no Bank, and The Shikoku Bank. The test will focus on the issuance and remittance of stablecoin-type e-money on Japan Open Chain using our stablecoin issuance/management system.
We are committed to implement the stablecoin system that meets the legal requirements as well as promoting business-to-business remittance and the general use of stablecoin.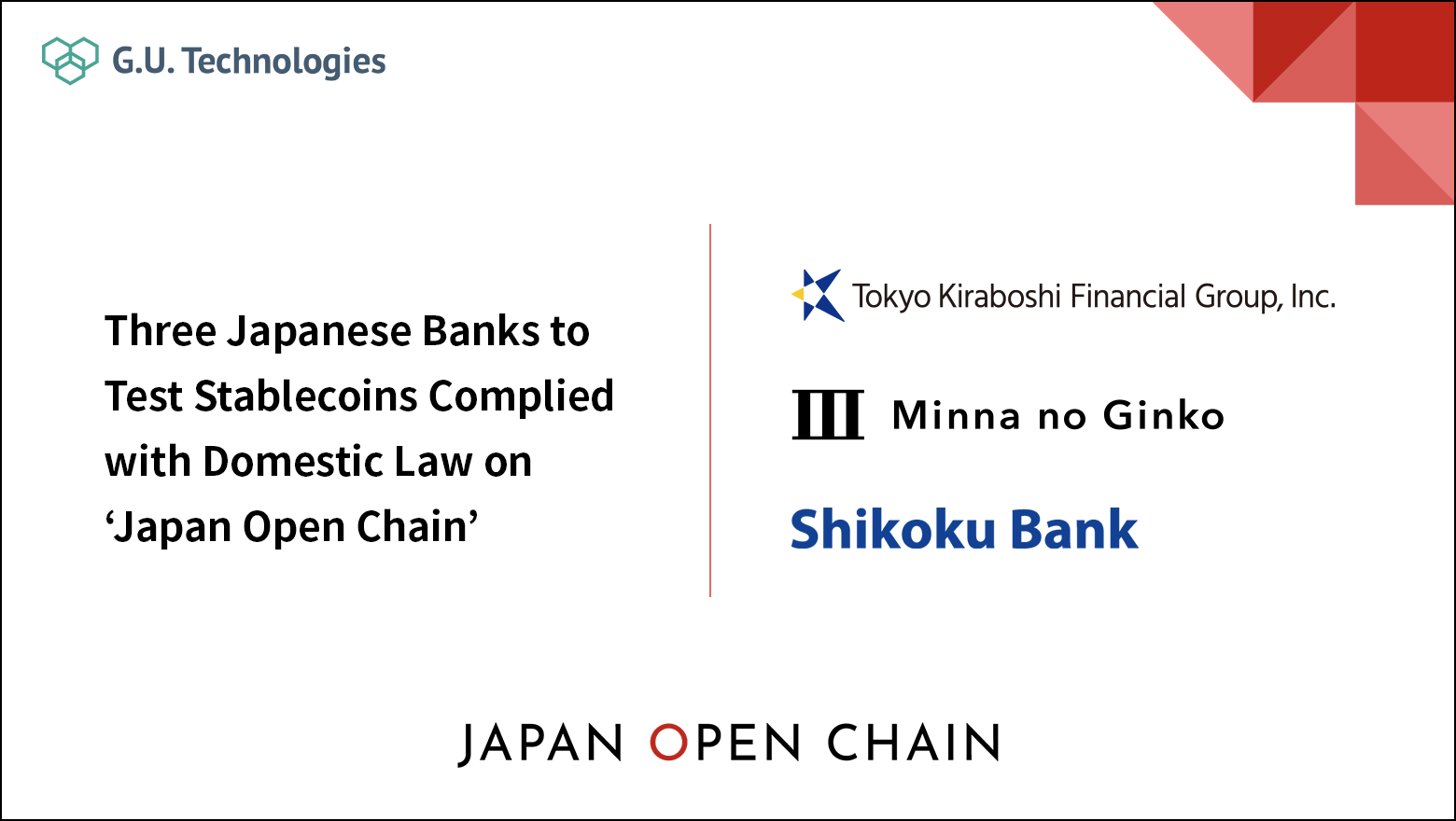 ■ Contents of the Test
There are various types of stablecoin issued around the world. The problem, however, is that some of those are actually algorithm types in which the value fluctuates or false stablecoin with no backed assets.

This test will use the stablecoin issuance system for financial institutions developed by G.U. Technologies, to verify that each bank can issue its own stable coins on the Japan Open Chain, a fully Ethereum-compatible public blockchain that is backed and compliant with Japan's new fund settlement laws.

Our goal is to issue the legally-supported stablecoin in cooperation with the testing and production environment of the banking system.
■ Use Cases of Stablecoin and the Benefits of its Use
Currently, there are approximately 20 trillion U.S. dollar-pegged stablecoins circulating worldwide. Revised Payment Services Act, the law regulating stablecoins, is scheduled to be enforced in Japan by June this year, ahead of the U.S. and the EU, and since stable coins can be issued not only in Japanese yen but also in other currencies around the world, this is considered to be a great business opportunity for Japanese financial institutions, including the possibility that Japan will be responsible for global settlements.

G.U.Technologies Inc. is developing the stablecoin system that can be easily introduced by financial institutions and fund transfer operators, with placing importance on practicalities such as legal compliance and payment processing speed, hopefully supporting the world where various financial institutions issue their own stablecoin.
Expected Use Cases
New means of remittance and payment between individuals and businesses for both inside and outside Japan that replaces Japanese Banks' Payment Clearing Network
Major payment system in web3 payment including NFT
All sorts of online payment method replacing credit card
Trades on digital securities (ST, STO) issued on blockchain
Issuing stablecoin as local currency
Advantages for Stablecoin Issuers (Banks and Trust Banks)
Increase in investment income from higher deposit accounts and deposit balances at the bank
Increase in revenues from settlement and exchange fees
Expectations for financial inflows from around the world through the issuance of stablecoin denominated in foreign currencies
Ability to offer unique benefits based on specific regions and purposes of use
Creation of opportunities to utilize new payment data, including use as credit management data
Significant reduction in development and operating costs of bank remittance systems
Advantages for Stablecoin Users
Significant decrease in payment and remittance fee, which reduces the burden of remittance
Competition among issuers for stablecoin customers will be created, and businesses and consumers will enjoy better convenience.
Seamless support for foreign currency settlements including U.S. dollar-pegged stablecoins
Smooth payment and remittance between multiple businesses including municipalities, and immediate deposits are available
It could be a means of exchanging digital assets such as NFTs
■ For Businesses who want to use the Stablecoin System and participate in the Proof-of-Concept on Stablecoin
In Japan and other countries, laws are being developed to safely promote the use of blockchain technology. We provide next-generation financial infrastructure to financial institutions by integrating legal requirements with the existing systems and operations of financial institutions with our blockchain engineers and members who focus on the financial industry.

Those who are interested in using the stablecoin that meets the legal requirements, participating in this demonstration experiments, or web3 service using the blockchain technology, development of browsers and wallets, please contact us.
Contact form: https://www.gu-tech.com/contact/
Email: contact@gu-tech.com
■ "Japan Open Chain", a public blockchain fully compatible with Ethereum and compliant with Japanese law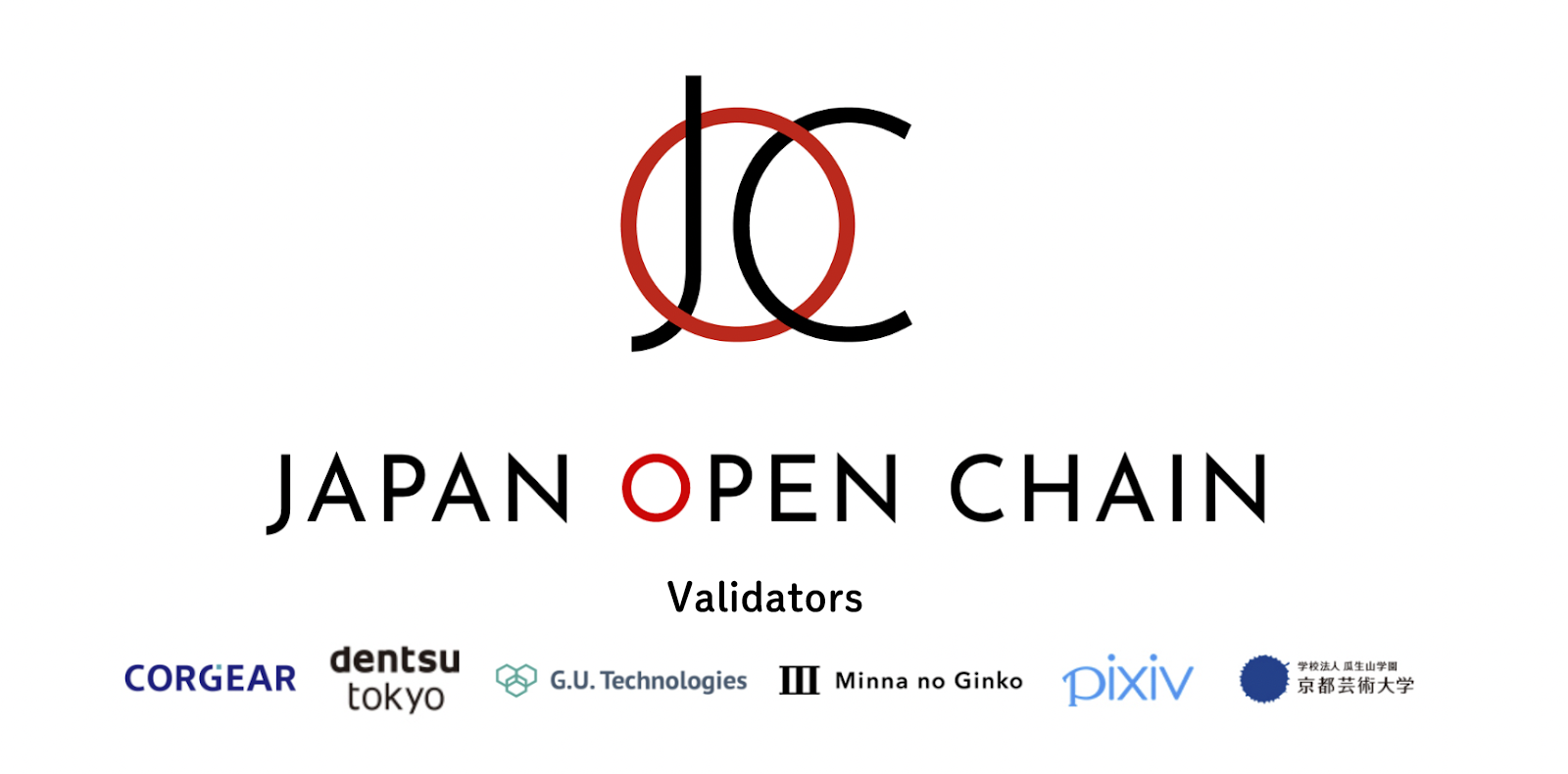 There are several blockchain networks in the world. The actual operating body, however, is unclear and there are many legal and technical problems that make it difficult to promote web3 business on such blockchains.
While various problems such as fraud occur, there is a need for blockchains that complies with the laws of each country and allows businesses to operate with peace of mind.

Therefore, Japan Open Chain was established to promote web3 business for people around the world by providing the necessary decentralization, high security performance and stability, and by ensuring that reliable Japanese companies operate in compliance with Japanese law.

▼ Validators
Currently, it is jointly operated by six companies within the Sony group: Corgear Corporation, Dentsu Inc., G.U.Technologies Inc., Minna-no Bank, Inc., Pixiv Inc. and Kyoto University of Art and Design, and will eventually grow to 21 companies.

Japan Open Chain official site: https://www.japanopenchain.org/en/