~Discussion with key figures: the fusion of blockchain and finance~
SHIBUYA, Tokyo- October 4, 2022 - G.U.Technologies Inc., "web3 infrastructure builder", today announced that it participated in "Super DX/SUM (Digital Transformation & Sum)" organized by Japan's largest economic newspaper, Nikkei from September 6 to 8. In its panel discussion, demo stage and workshop, G.U.Technologies, Inc. discussed and communicated its vision on the fusion of blockchain and finance, and the challenges and possibilities in web3 business.
1.Panel Discussion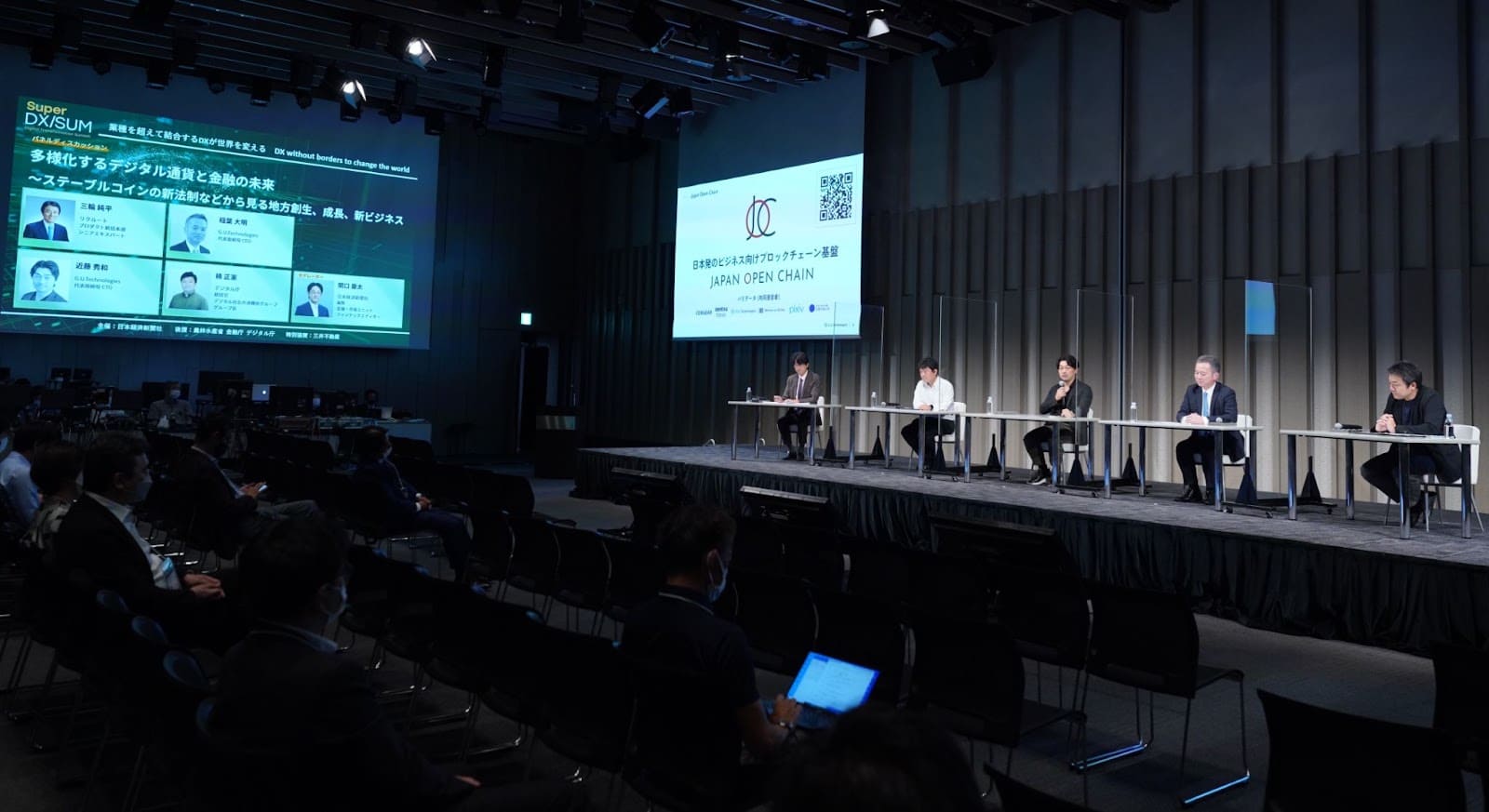 Photo: From the right, Miwa, Senior Expert, Product General Headquarters of Recruit Co., Ltd., Inaba, CEO of G.U.Technologies Inc., Kondo, CTO of G.U.Technologies Inc., Kusunoki, Group General Manager, Digital Society Common Function Group of Digital Agency, Sekiguchi, Fintech Editor, Finance and Market Unit of Nikkei
Diversifying Digital Currency and the Future of Finance
~ Regional revitalization, growth and new business seeing from stablecoin's new legislative point of view ~
Experts on digital currency such as stablecoins or e-money from the public and private sector attended the event to discuss innovations in digital payments. As the use of stablecoin is spreading globally and the legislation development in Japan being faster than in other countries, experts in the event exchanged ideas about "the increasing needs for deposit-backed stablecoin as a means of payment for digitalized assets, which are more and more expected to be distributed in the future", and "as precondition for this, it is important to build the trust with appropriate consumer protection measure". Additionally, Inaba, CEO of G.U.Technologies, Inc., mentioned that "this is an opportunity to bank deposit service to be more convenient as banks issuing stablecoins and also to create new business. So in this context, stablecoin is the very first step and the very first thing to work on to realize "DX which changes the world by connecting across industries, also the theme of this event". Kondo, CTO of G.U.Technologies, Inc. , explained "decentralization of authentication technology" will promote the fusion of finance and the internet in an innovative way". Sekiguchi, Nihon Keizai Shimbun, expects that "innovation in private companies which will meet the needs of future stablecoins, may activate in the future".
---
2.Demo Stage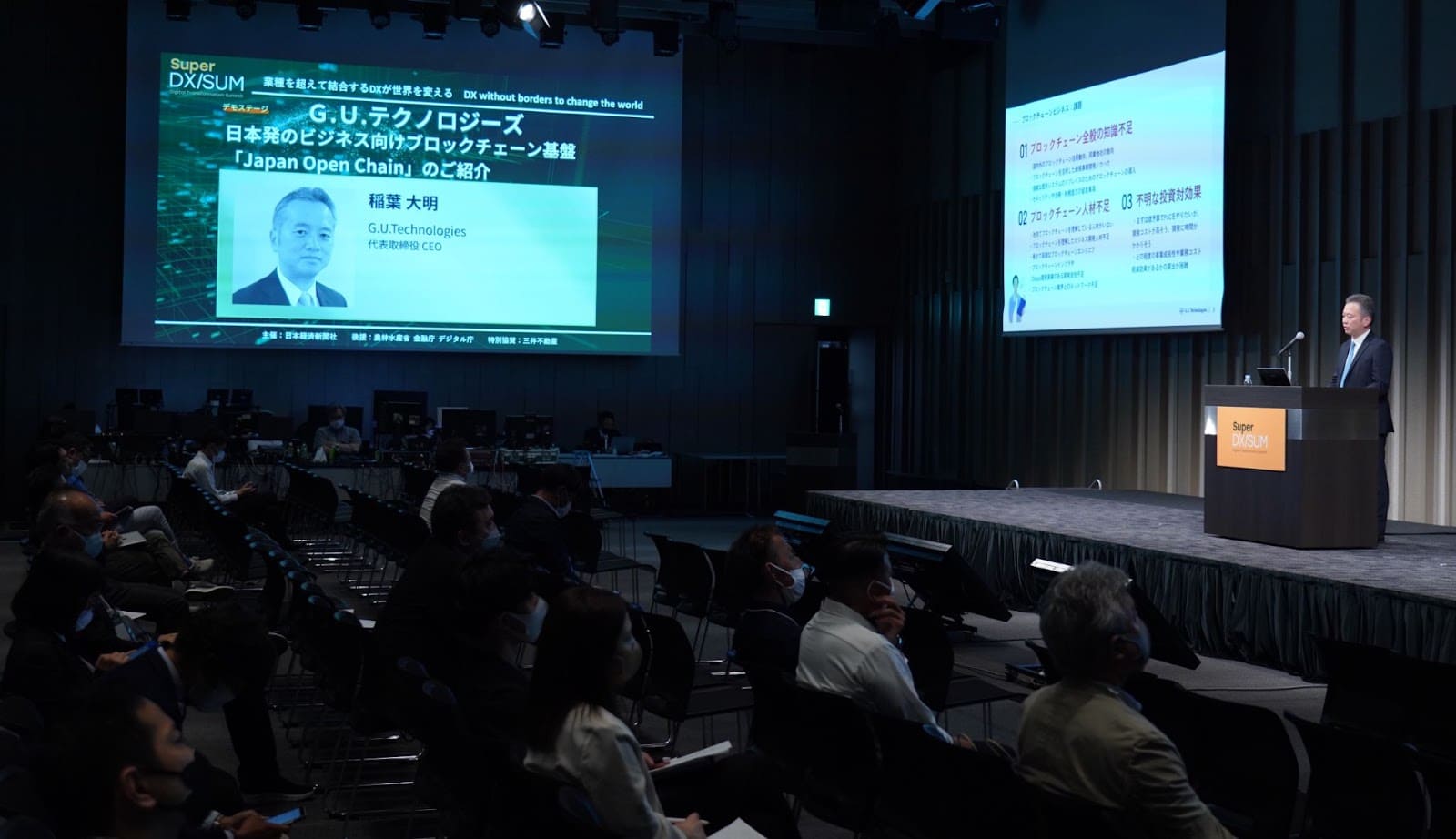 Photo: Inaba, CEO of G.U.Technologies, Inc.
"Japan Open Chain", Business Blockchain Platform from Japan to Global
With recent growing attention on services and system developments utilizing the blockchain technologies, many challenges such as "lack of knowledge and human resources in terms of blockchain, recognizing the legal and tax risks, and selecting the blockchain infrastructure" are the concerns that businesses may face when they in fact start blockchain business.

Inaba, CEO of G.U.Technologies Inc., introduced G.U.Technologies' blockchain infrastructure, "Japan Open Chain", which is aimed to address the challenges mentioned above.
Blockchain Infrastructure for Business Use
There are development communities for blockchain infrastructure around the world including Bitcoin and Ethereum and "permissionless" blockchain communities in which anyone can join its management are increasing. At the same time, blockchain infrastructure managed by diversified members are facing the challenge of how to tackle the issues on restrictions in each country where legislation development proceeds.

Our view on requirements of best business blockchain infrastructure
Legal compliance (immediate response to legal revision)
High security and stability
High-speed transaction and low transaction cost (gas fees)
To meet the conditions mentioned above, we are constructing and operating in the following policy.
Japanese reliable companies are operating the server inside Japan in accordance with Japanese law
Fully Ethereum compatible chain using Ethereum software
Finally, Inaba concluded in the end of demo stage saying "we will strive to contribute to the businesses use such as issuing NFTs or JPY-pegged stablecoin through Japan Open Chain and hope to support business development of Japanese companies"
---
3.Workshop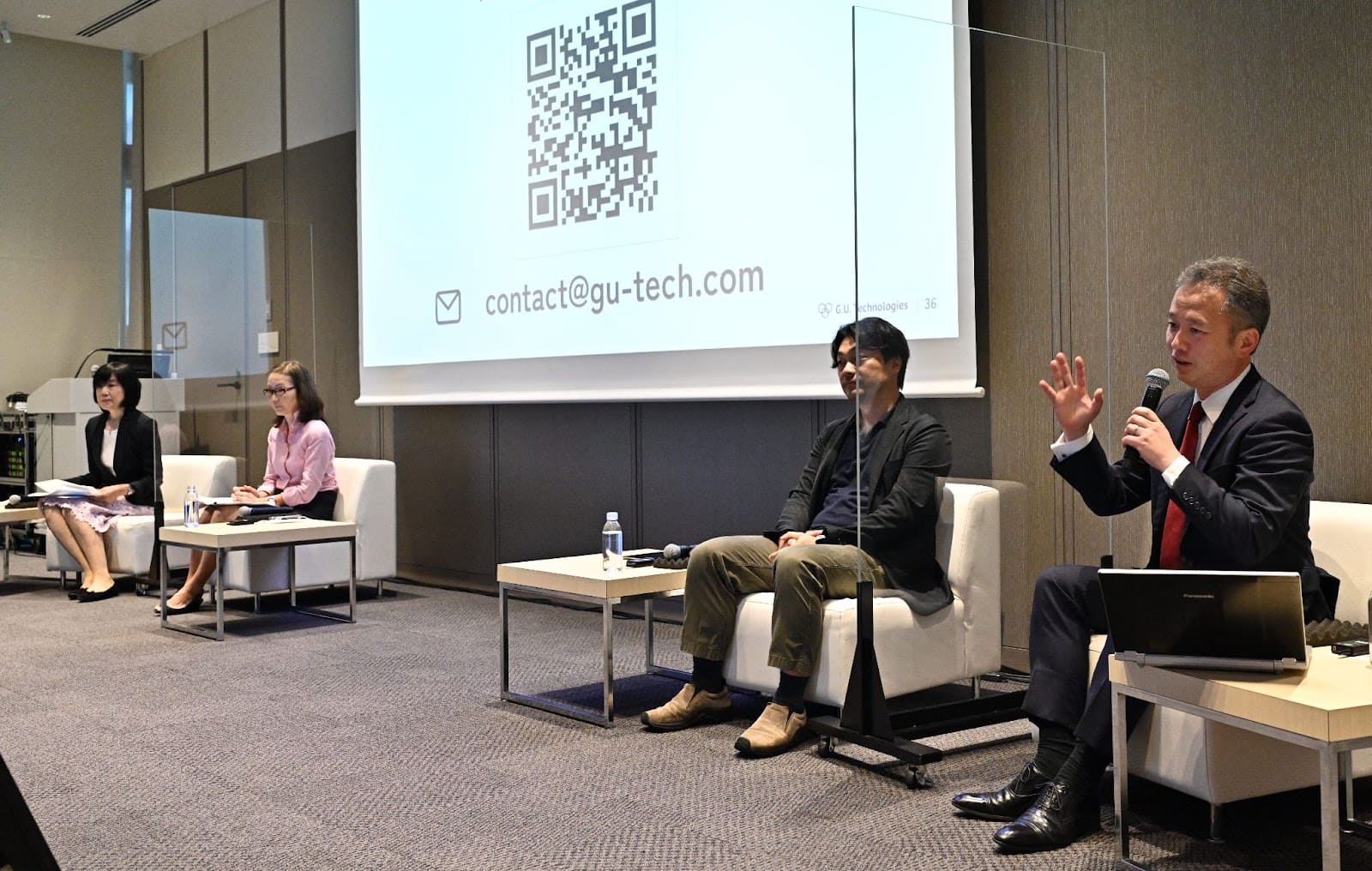 Photo: From the right, Inaba, CEO of G.U.Technologies Inc., Kondo CTO of G.U.Technologies Inc., Namiki, Executive Product Manager of G.U.Technologies Inc. Nemoto, Professor, Graduate School of Business and Finance of Waseda University
Blockchain Business Trends
~ How should we prepare? ~
Kondo, CTO of G.U.Technologies Inc., explained about the blockchain business trends in the workshop saying "finance" is the best business area that matches blockchain business and there are already wide varieties of services, mainly Fintech, being launched. It is expected that the blockchain related business industry will grow about 240 trillion yen by 2030. Many countries are now pushing through legislation for the general consumer to use safely.

Inaba, CEO of G.U.Technologies Inc., and Namiki, Executive Product Manager of G.U.Technologies Inc., also insisted in the workshop saying blockchain infrastructure that secures the business use is critical for realizing the healthy expansion of blockchain business. Starting and entering, in fact, into blockchain business requires legal and tax advice, business planning support, or development support tools. "G.U. Blockchain Development Program" is a support program for blockchain business, packaged in one, all of those elements needed for starting blockchain business.