- Developing web3 Business on Japan Open Chain -
Japan Blockchain Foundation Inc. (Headquarters: Shibuya-ku, Tokyo; President: Daimei Inaba ,Hidekazu Kondo), which operates and manages the consortium of "Japan Open Chain", a public blockchain fully compatible with Ethereum, is pleased to announce that NTT Communications Corporation (Headquarters: Chiyoda-ku, Tokyo; President & CEO: Toru Maruoka, hereinafter referred to as NTT Com) has joined as a validator (co-operator). Additionally (It has been decided that another company will also participate in the consortium.)

Japan Open Chain is a blockchain infrastructure operated by Japanese companies in compliance with Japanese law, providing a secure environment for developing web3 businesses.This chain is fully compatible with Ethereum, providing high speed, sufficient decentralization, and high levels of security, stability, and performance.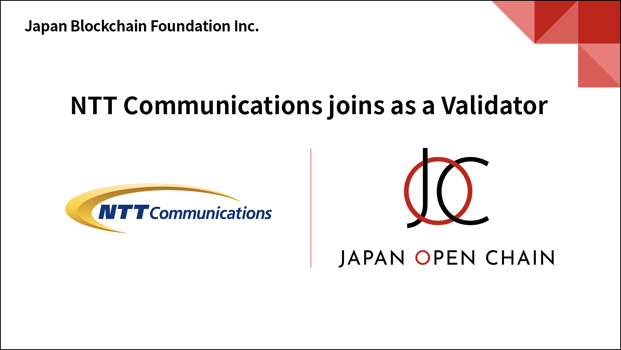 Currently, it is operated by Corgear Corporation (Sony group), Dentsu Inc., G.U.Technologies Inc., Minna-no Bank, Inc., Pixiv Inc. and Kyoto University of Art and Design, and will eventually grow to 21 companies.
We will accelerate the expansion of the Japan Open Chain ecosystem and the strengthening of its network by bringing on board NTT Com, one of the NTT Group's companies, and reputable validators with trust.
---
■ Purpose of NTTCom's Participation in Validator
NTT Com participates as a co-operator, and together with other operators, will provide a blockchain infrastructure that Japanese companies can use with safety, while also promoting the development of Web3 services that will help solve social issues on its own.
1. Management and operation of this blockchain infrastructure
Validation of transaction data recorded on this blockchain
Technical research and development to improve security, performance, and stability

2. Development of the new Web3 services to solve social issues
Research and development to make Web3 services effective in society
Development of services that enable co-creation and exchange of value without the need for intermediaries
■ About NTT Com
NTT Com was established in 1999 and has been providing a diverse range of ICT services, leveraging its telecommunications expertise and high-quality infrastructure in areas such as network, cloud, colocation, applications, and security. As a core company of the DOCOMO Group's corporate business from 2022, NTT Com will continue to create value by driving structural transformations at a global level, promoting new work styles, and supporting regional DX initiatives. For more information, please visit
https://www.ntt.com/en/index.html
---
■ "Japan Open Chain", a public blockchain fully compatible with Ethereum and compliant with Japanese law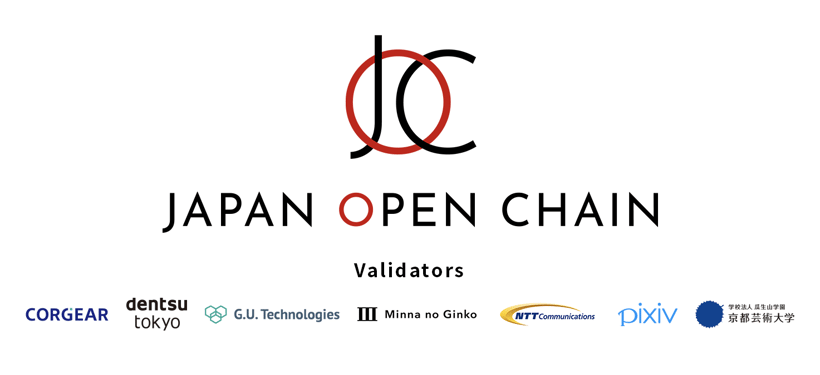 There are several blockchain networks in the world. The actual operating body, however, is unclear and there are many legal and technical problems that make it difficult to promote web3 business on such blockchains.
While various problems such as fraud occur, there is a need for blockchains that complies with the laws of each country and allows businesses to operate with peace of mind.

Therefore, Japan Open Chain was established to promote web3 business for people around the world by providing the necessary decentralization, high security performance and stability, and by ensuring that reliable Japanese companies operate in compliance with Japanese law.

▼ Latest Press Release of Japan Open Chain Project
Three Japanese Banks to Test Stablecoins Complied with Domestic Law on 'Japan Open Chain'
https://www.jbfd.org/en/news/stable-coin-demonstration-experiment-begins

▼ Japan Open Chain official site
https://www.japanopenchain.org/en/


---
■ Japan Open Chain validator and community members wanted
Japan Open Chain Consortium is now recruiting domestic companies interested in becoming validators, who will serve as joint operators of the chain, as well as companies and organizations who wish to learn, exchange, and experience web3 businesses through the "Japan Open Chain Community Membership.
Participants will not only have the opportunity to enter the world of web3 businesses, but also to promote the implementation of web3 technology in society.

If you are interested in leveraging Japan Open Chain for your business, please feel free to contact us for more information.
---
■ About Japan Blockchain Foundation Inc.
Japan Blockchain Foundation Inc. operates and manages "Japan Open Chain" consortium in order to solve the social challenges through blockchain for the trusted Japanese companies to conduct business with legal compliance. We develop and operate the chain according to the user's business objectives such as private chain, consortium chain or public chain, for the user companies to utilize the blockchain technology appropriately with high safety.
■ About Us
Company Name:Japan Blockchain Foundation Inc.
Address:26-1 Sakuragaoka-cho, Shibuya, Tokyo, Japan
Executive Officers:Daimei Inaba (CEO), Hidekazu Kondo (CTO)
Established Date:July, 2022
URL:https://www.japanopenchain.org/en/
Main Business:web3 infrastructure management and operation
■ Contact
PR Department, Japan Blockchain Foundation Inc.
Contact form:https://www.japanopenchain.org/en/contact