~ NFTs can be created on Japan Open Chain ~
Japan Blockchain Foundation Inc. (President: Daimei Inaba, Hidekazu Kondo), which operates and manages the Japan Open Chain, announces that it has signed a Memorandum of Understanding with Connectiv Corporation (President:Yuki Ishii, hereinafter referred to as Connectiv) to connect the multi-chain NFT generation platform "NFT Garden" developed and operated by Connectiv to Japan Open Chain.

Through this cooperation, we will provide an environment for NFT creation on the Japan Open Chain, a web3 infrastructure compliant with Japanese law, without the need for web3 development skills, expertise, or crypto currency, and will support Japanese companies to enter the web3 business safely and easily.

Furthermore, we will explore the possibility of collaboration to create synergy in their respective businesses and further enhance the value of their services, and promote efforts to realize a world where anyone can promote web3 business with confidence.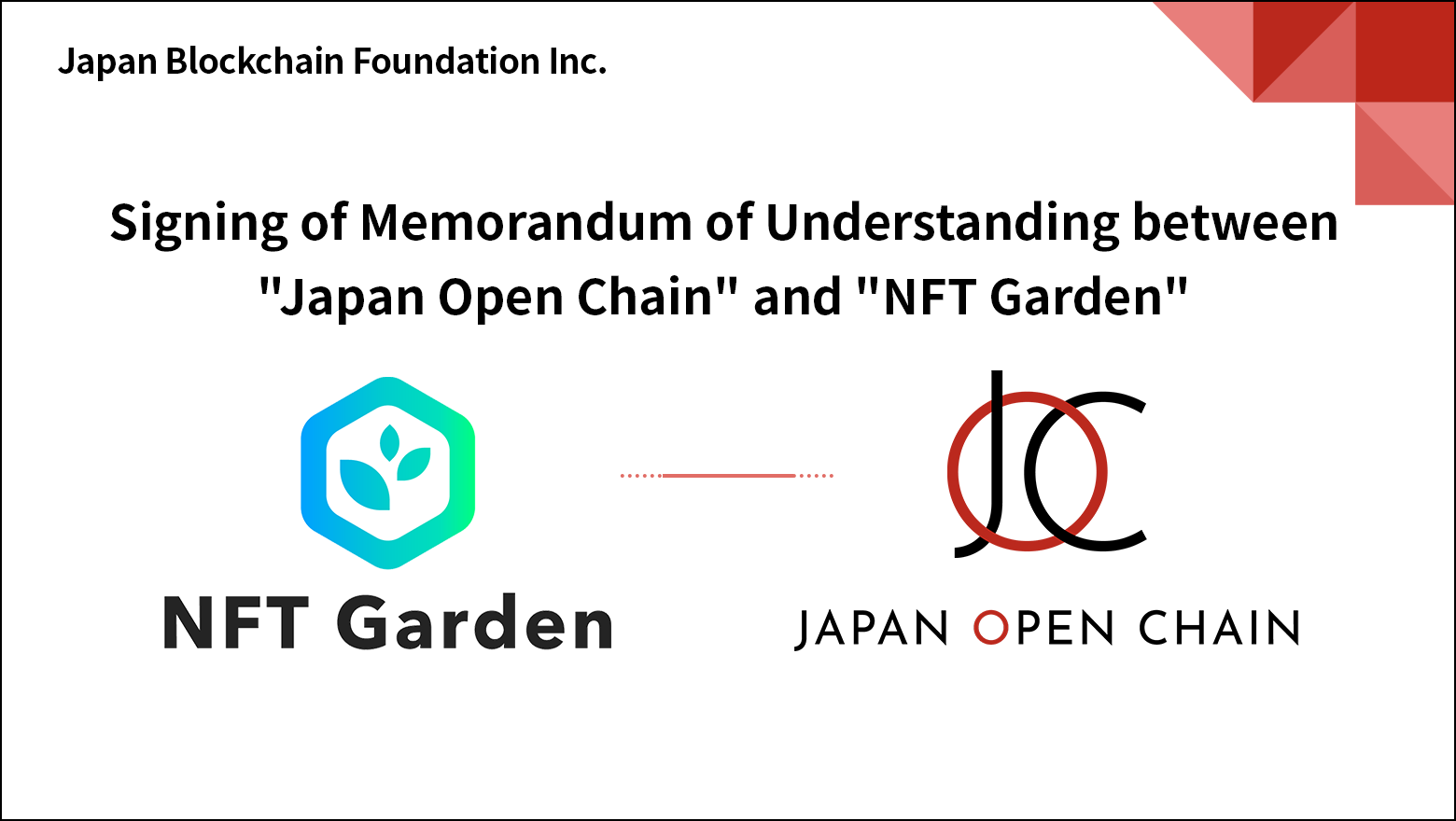 ■ Advantages of Issuing NFT on Japan Open Chain
According to DappRader, the NFT-related ranking website, the NFT market in 2022 saw active trading with lingering impact of enthusiastic boom from 2021, however, both trading volume and sales of NFT dropped sharply after the crash of cryptocurrency Luna and stablecoin UST. With the peak of 3.3 billion USD in May, 2022, the NFT monthly trading volume stays under 1 billion after June. Since then the trend of the NFT market has gradually switched from short-lived speculative purpose trading of NFT arts to cases of utilizing NFT on business scenes by world's leading consumer manufacturers.

Based on these situations, Japan Open Chain provides companies and local governments issuing NFTs with confidence mainly in the following points.
Blockchain platform for NFT issuance complies with Japanese law.

The validators (co-operators) are Japanese companies for your confidence.

Adopting PoA for consensus building method of the blockchain and build the consensus among validators

If the chain's consensus formation method is PoW or PoS, there is a risk that the chain will be separated (hard fork) due to difficulties in consensus formation for chain management, resulting in the existence of multiple types of NFTs instead of the original one.

Best suited for certification (e-Residency, membership cards, employee ID, student ID, diploma and academic transcript) or registration certificates (digital assets, membership cards and others)
Users can easily trade in stable coins to be issued on the Japan Open Chain without the need for crypto currency.
After issuing initial NFT on Japan Open Chain, users will be able to sell NFTs in NFT marketplace such as OpenSea by using bridge function to other chains including Ethereum MainNet and Polygon.
■ "Japan Open Chain", a public blockchain fully compatible with Ethereum and compliant with Japanese law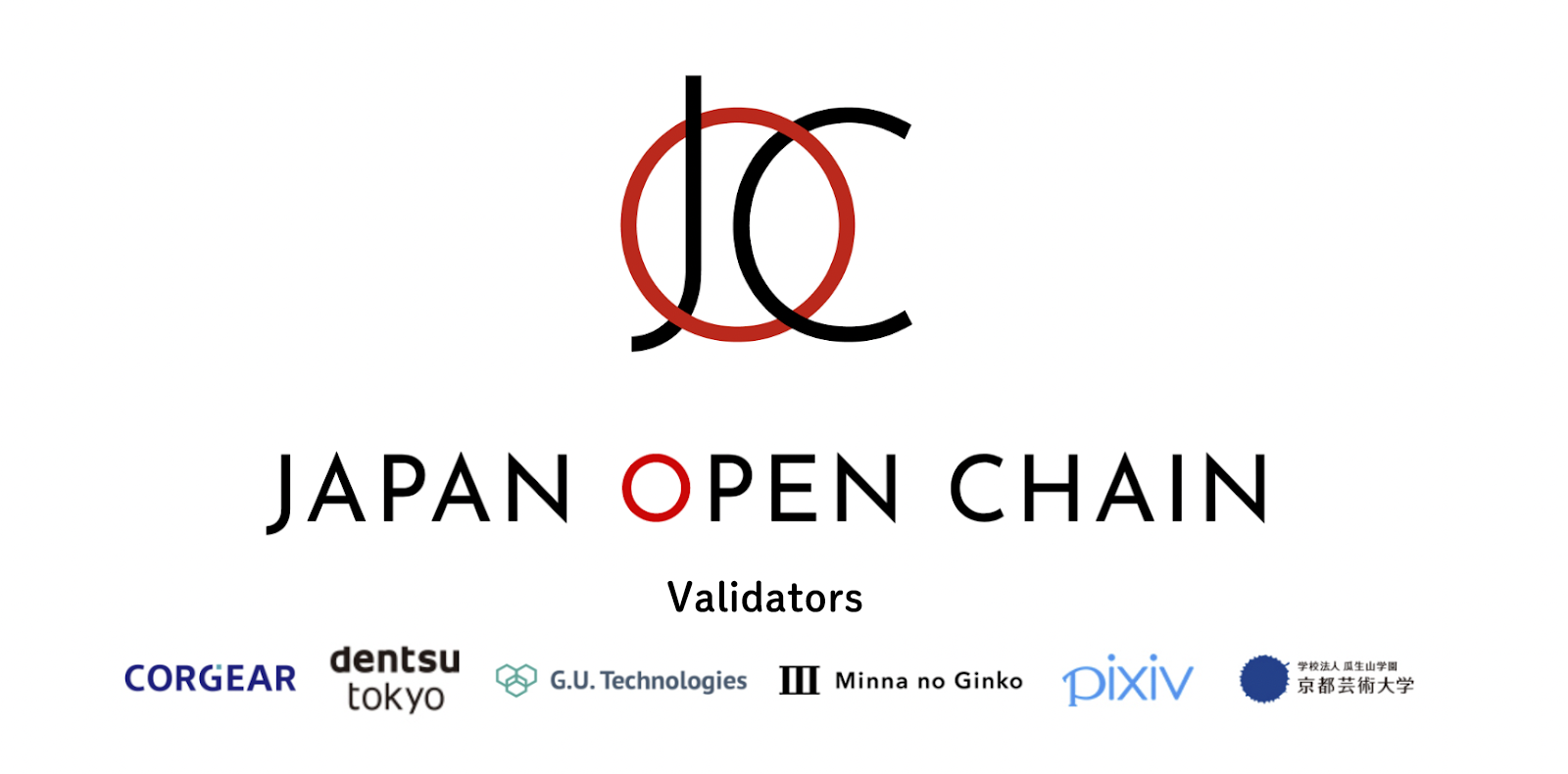 There are several blockchain networks in the world. The actual operating body, however, is unclear and there are many legal and technical problems that make it difficult to promote web3 business on such blockchains.
While various problems such as fraud occur, there is a need for blockchains that complies with the laws of each country and allows businesses to operate with peace of mind.

Therefore, Japan Open Chain was established to promote web3 business for people around the world by providing the necessary decentralization, high security performance and stability, and by ensuring that reliable Japanese companies operate in compliance with Japanese law.

▼ Validators(Co-operators)
Currently, it is jointly operated by six companies within the Sony group: Corgear Corporation, Dentsu Inc., G.U.Technologies Inc., Minna-no Bank, Inc., Pixiv Inc. and Kyoto University of Art and Design, and will eventually grow to 21 companies.

▼ Latest Press Release of Japan Open Chain Project
Three Japanese Banks to Test Stablecoins Complied with Domestic Law on 'Japan Open Chain'
https://www.jbfd.org/en/news/stable-coin-demonstration-experiment-begins

▼ Japan Open Chain official site
https://www.japanopenchain.org/en/
■ About NFT Garden
"NFT Garden" is a multichain NFT generator platform for businesses developed and operated by Connectiv. Users will be able to create NFTs via API or website screen without the need for web3 development skills, expertise, or crypto currency. The platform supports 12 blockchains, including "Polygon" and "Solana", and is one of the largest in Asia. Generated NFTs are optimized to 4 types of market places including "OpenSea"or "Magic Eden". Currently β version is offered and the NFT Garden is free of usage fees and gas charges so that users will be able to add NFT generating functions to existing services without holding cryptocurrencies and build the new project utilizing NFTs.
 ▶︎ NFT Garden : https://nftgarden.app/
 ▶︎ Connectiv corporation. : https://connectiv.jp